The long-term agreement (10 years) allows to produce renewable gas thanks to an innovative technology developed by Meva Energy in collaboration with the Burner Solution group of ANDRITZ and Örebro Gasteknik AB. The solution has been reviewed in a larger study by Sofidel, ANDRITZ Novimpianti and the Department of Energy of Pisa University (UniPi).
Thanks to this partnership Sofidel takes another major step toward its carbon 2030 footprint reduction goals.
Switching to renewable Meva gas Sofidel will reduce its CO2 emissions by 8500 tons per year.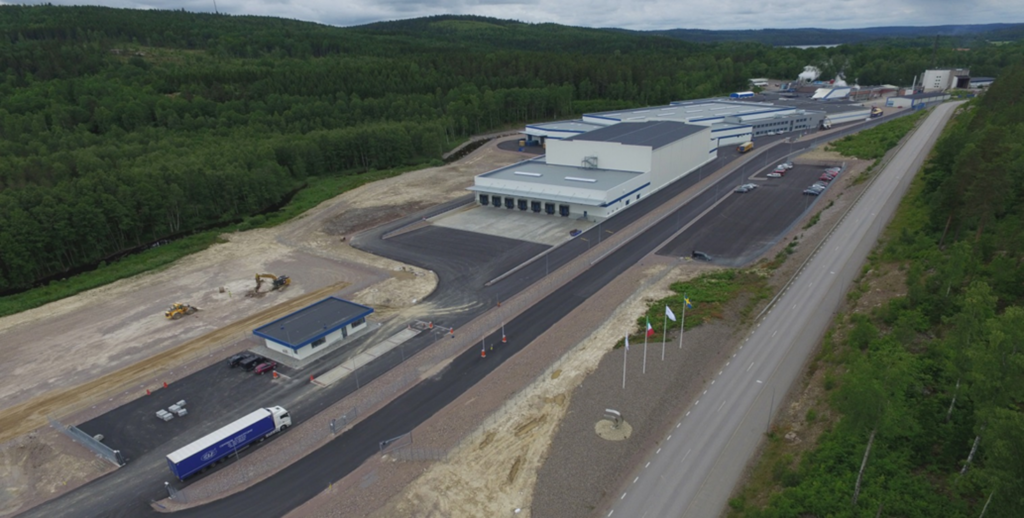 In less than two years a Meva Energy renewable gas producing plant will be replacing fossil gas consumption at Sofidel's plant in Kisa, Sweden. The development of the pioneering technology has been supported by studies carried out by Sofidel Corporate Technical Dept based in Lucca and ANDRITZ Novimpianti along with the Dept of Energy of University of Pisa (UniPi) related to utilizing low-calorific renewable gas for tissue drying.
The agreement addresses the main remaining CO2-reduction challenge within paper manufacturing.Process heat used in manufacturing industry represents around 25% of the worlds energy consumption. Almost all of this energy is based on fossil energy, such as coal, natural gas or LPG. Until now, this has also been the case for tissue paper drying. The fossil gas will now be replaced with locally produced renewable gas by introduction of Meva Energy technology at the tissue mill. The deal represents the first Meva Energy plant within the very large market of industrial process heat.
The agreement between Meva Energy and Sofidel Sweden specifies that Meva Energy will operate the thermochemical conversion plant with the capacity of generating at least 4,2 MW gas within the premises of Sofidel Sweden's tissue mill in Kisa, Sweden. It also specifies that Meva Energy will deliver and sell renewable syngas for a period of 10 years to Sofidel Sweden.
"At Sofidel, we believe in building an inclusive and sustainable future and in our commitment to minimize our impacts on natural capital and encourage the transition to a low-carbon economy we are increasingly focusing on renewable energy. The renewable gas supply agreement signed with Meva Energy will help Sofidel to achieve its 2030 emission reduction targets, that have been approved by the Science Based Targets initiative (SBTi) as consistent with the reductions needed to limit global warming to well below 2°C under the Paris Agreement" says Luigi Lazzareschi, CEO of Sofidel Group.
Maximizing the reduction of CO2 emissions
Switching to renewable Meva gas, it is estimated that the tissue mill will reduce its CO2 emissions by 8500 tons per year compared with the carbon footprint of today's consumption of fossil LPG. The biomass used as fuel will be locally produced wooden pellets. The decentralized principle of on-site generation in combination with not having to refine the gas to pure methane is the basis for reaching a high conversion efficiency as well as realizing high levels of CO2 emission reductions. Based on this, the Meva Energy technology can realize more substantial cuts of CO2 emissions than conventional types of biofuel. As the Meva Energy system also produces biochar, a stable form of renewable carbon that creates a carbon sink when used for soil improvement, the net CO2 emissions can even be negative.
"We are delighted of this long-term partnership with Meva Energy through which we'll be able to implement at our production site an innovative technology. This supply agreement further strengthens our sustainable development model for responsible long-term growth. We hope other manufacturing units will adopt this technology in the years to come" says Roger Svensk, Country Operations Manager at Sofidel Sweden and responsible for the mill in Kisa.
"Since we realized the need for a renewable solution to replace the fossile gas for tissue drying and the fit with our technology, we have worked on verifying our gasification technology for this application." says Niclas Davidsson, CEO at Meva Energy and continues: "Being able to use our plant in Hortlax, Sweden, as a demonstrator together with burner manufacturer ANDRITZ, has been valuable. We think the plant in Kisa will be a reference point and constitute future best practice for all tissue mills in terms of replacing fossil gas in the strive against reducuing fossil CO2 emissions."
Meva Energy has receive part of the financing for the renewable energy plant in Kisa by the national support program Klimatklivet, adminstered by the Swedish Environmental Protection Agency.
Press contact:
Meva Energy; Niclas Davidsson, CEO, +46 708 407241, niclas.davidsson@mevaenergy.com
About Meva Energy
Meva Energy is a deep-tech development company within thermochemical conversion of solid residue and biomass. Meva Energy's proprietary and award-winning technology is able to convert solid residue to renewable gas and it is the world's only conversion technology having full acceptance of fine fraction feedstocks such as saw dust or fiber residue. Due to the stability and simplicity of the conversion process, the Meva Energy system is able to produce renewable gas at the same cost levels as fossil gas. Meva Energy is supported by EIT InnoEnergy, the world's largest sustainable energy innovation engine. Meva Energy is headquartered in Gothenburg, Sweden. Learn more at https://mevaenergy.com
Sofidel
The Sofidel Group is one of the leading manufacturers of paper for hygienic and domestic use worldwide. Established in 1966, the Group has subsidiaries in 12 countries – Italy, Spain, the UK, France, Belgium, Germany, Sweden, Poland, Hungary, Greece, Romania and the USA – with more than 6,000 employees, net sales of 2,173 million Euros (2020) and a production capacity of over one million tonnes per year (1,428,000 tonnes in 2020). "Regina", its most well-known brand, is present on almost all the reference markets. Other brands include: Softis, Le Trèfle, Sopalin, Thirst Pockets, KittenSoft, Nalys, Cosynel, Lycke, Nicky, Papernet. A member of the UN Global Compact and the international WWF Climate Savers programme, the Sofidel Group considers sustainability a strategic factor with regards to growth and is committed to reducing its impact on natural capital and maximising social benefits, setting as objective the creation of shared added value for all stakeholders. Sofidel's greenhouse gas (GHG) emissions reduction targets to 2030 have been approved by the Science Based Targets initiative (SBTi) as consistent with reductions required to keep warming to well-below 2°C, in line with the goals of the Paris Agreement.